A-1 Story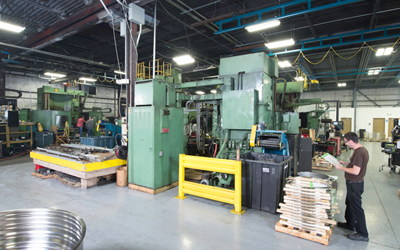 A-1 was incorporated in 1979 to serve the machining needs of the turbine engine OEMs. Since then A-1 has operated 24 hours a day with the singular purpose of satisfying our customers. One hallmark of A-1's customer relationships is they are long and solid some extending back to our beginning.
A-1 has always operated with a consistent approach of quick and clear responsiveness and turnaround commitments that are ahead of competition in both lead time and reliability. We have a long reputation for trust, reliability, and excellent quality.
We stay focused on our competency of turning and milling of aerospace turbine parts and aero-derivative and ground/marine turbines — particularly large parts up to 150" in diameter, as well as smaller diameter parts.
We support our competency with a strong hands-on engineering staff who handle the range of engineering requirements from programming, tooling, 1st piece, and process improvement. A-1 is especially experienced in machining components in the hot section of the turbine and work with the very specialized materials used there. We machine exotic aerospace materials in sizes from 20" in diameter to very large retaining rings and fan cases.
We utilize the many outstanding aerospace suppliers in central Connecticut for supporting processes such as Heat-Treat, NDT, EDM, etc. as required by our customers. This keeps A-1 focused and very competitive at our own competency of turning and milling.
A-1 brings many years of experience to machining, with a staff of 55 many with over 20 years with A-1. A-1 has over 800 years of aerospace machining experience among its talented and hard-working associates.
A-1 Machining Company has been on a growth curve and has recently added new capacity. A-1 has a facilities footprint and plan to continue to grow and add capacity.
A conversation with any of our customers would likely yield very similar feedback: A-1 is experienced, responsive, with fast turnaround and excellent quality.